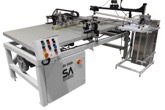 Vacuum chuck milling equipment is utilized in many applications which require a reliable method to hold materials securely in place during milling, grinding, cutting or CNC processes. For decades, technicians and engineers have been searching for the best method of securing a workpiece on a machining center. Traditional vacuum systems are designed with limited options and geared towards larger, flat products.
Vacuum systems today must meet the demands of critical applications with the versatility to hold a variety of substrates and materials in different environments. Vacuum systems used in plotter/cutter, CNC machining and milling applications are an integral component in these processes, providing reliability and consistency to meet production demands while maintaining a high level of quality. Precision vacuum tables assist milling processes in many industrial applications including:
Aerospace component manufacturing
Automotive manufacturing
Ultrasonic cutting
Plotter cutter applications
CNC machining
Cutting canvas and sail making operations
Engraving
Surface grinding
Vacuum tables must maintain a consistent flatness with reliable hold down force for a wide variety of materials and substrates. Vacuum systems need to offer versatile options designed around specific applications. When looking for the best vacuum chuck to support various milling operations, check out the many options and engineering features from Systematic Automation.
Systematic Automation Offers Vacuum Chuck Milling Solutions
Systematic Automation offers vacuum chuck milling solutions with precision vacuum tables that hold your material securely in place to ensure your desired cut out. Our vacuum table solutions support milling and automated CNC routing applications, with sacrificial layers to cut completely through your material without touching the vacuum table surface. All vacuum table systems can be custom designed to fit your application with custom hole patterns, vacuum zones and many more engineering features which enhance your application to improve throughput and quality.
No job is too large or small, with vacuum tables ranging in size from 5" x 6" up to 72" x 144" and custom sizes available upon request. We will partner with you to design and engineer the perfect vacuum system for your application. Engineering features and options available with your vacuum chuck include:
Custom hole patterns
Custom designed vacuum zones
Valves to control custom zones
Sacrificial sub layers
Surface anodizing
Formica table top
Automatic pin registration
Systematic Automation will customize your table top surface with anodizing to provide added insulation and resistance to corrosion and wear and tear. Anodizing is a process that raises the oxide layer on the vacuum table surface and is available in various colors. Formica table tops assist applications with materials or products that are prone to abrasion and conductivity issues. A Formica table surface is available in any size or color.
Systematic Automation Offers Custom Designed Vacuum Tables
Systematic Automation will design your vacuum table base customized to your specifications. Our vacuum table bases are gray powder coated and heavy-duty with adjustable height from 35" to 37" from the floor, with the height of the base customizable. For vacuum tables featuring controllable vacuum zones, you may choose the location of the valves. Casters may be added for moving easily between job stations or locations.
Our vacuum tables are constructed with a standard vacuum table top skin that is 1/8" thick, tough aluminum alloy backed with a layer of epoxy resin, providing durability against dings and dents. The complete table is constructed of aluminum including an aluminum honeycomb core which is slotted on both the top and bottom for even vacuum flow. Surrounding the slotted honeycomb core is a 1" x 1" manifold which provides maximum distribution of vacuum at all the vacuum holes. Construction with common materials helps to maintain constant temperatures which contributes to maintaining reliable flatness.
We have been manufacturing precision vacuum tables for over 35 years, our tables set the industry standard in flatness with +/-.001" per linear foot no matter the size of your table. We offer vacuum tables in a horizontal or vertical position, expanding the capabilities of the most reliable and durable vacuum systems available today. Our vacuum table systems are utilized worldwide in a multitude of applications, enhancing vacuum chuck milling operations and CNC router applications with reliable flatness and long lasting durability.
All equipment is manufactured in our modern U.S. facility and tested rigorously for quality performance prior to shipping. We understand the technology behind the vacuum table systems and offer in-depth knowledge and experience in matching the perfect table to your application. We provide ongoing service and support to ensure the total success of your vacuum system application.
Systematic Automation leads the industry with designing, engineering and manufacturing custom vacuum table systems which outperform the competition. We offer total turnkey solutions with vacuum systems, screen printing machines, UV curing systems and flame treatment equipment designed for maximum throughput, reliability and high quality. Contact us today to speak with an engineer and learn more about our vacuum chuck milling solutions.