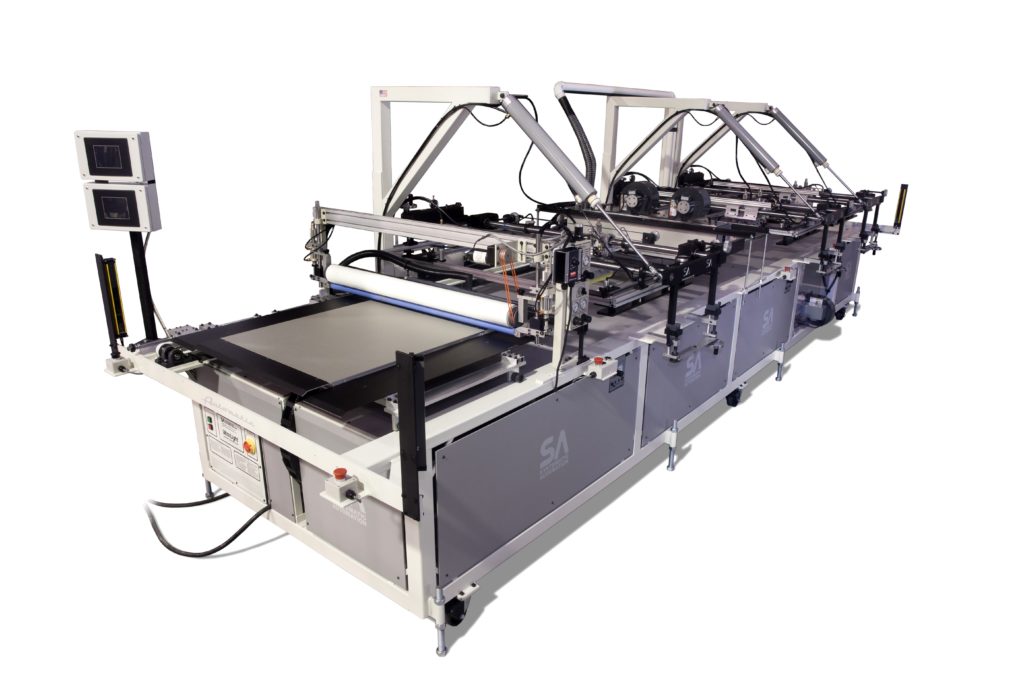 Are you looking for the best screen printing machine video?  Finding the best screen printing machine for your business is an important purchase, and one that requires some research on your part to make sure that you get the best machine for your application.  When you need to find the right screen printing machine for your process, partnering with the leading screen printing manufacturer will give you the most information so that you can review all your options to make the purchase that delivers the most value.
Systematic Automation is Leading Manufacturer of Screen Printing Machines
Systematic Automation is a leading manufacturer of screen printing machines, vacuum tables and UV curing systems, with over 35 years of experience in developing superior automated equipment.  We offer in-depth knowledge in designing, engineering, manufacturing and installing screen printing machines for virtually any application.   We combine tried and true engineering methods with modern, cutting edge technology to provide patented printing machines that outperform the competition.
See the Many Screen Printing Machine Videos Available on our YouTube Channel
Systematic Automation offers automatic and semi-automatic screen printers for flat or cylindrical products in a wide range of sizes.  We showcase our machines for your review with our YouTube channel so that you can see our state-of-the-art printing machines in action.  Our numerous videos on the many types of screen printing machines we provide demonstrate the multitude of products and applications utilizing our superior screen printing technology.
You will find videos to showcase printing on flat or cylindrical products, with semi-automatic or automatic screen printers.  Systematic Automation provides the widest selection of screen printing machines available today, with dozens of models ranging from clamshell printers, harmonic lift screen printers, turret motion, sliding table, in-line and rotary index printers.
You can contact us directly to speak with an engineer or peruse our website for additional information on our screen printing equipment.  Here you will find more videos on our Model F1 Series Semi-Automatic Screen Printer, recognized as one of the most versatile screen printers ever manufactured.  The Model F1 series machine will print on flat or cylindrical items with precision and is simple to operate with a fully pneumatic system containing no electrical components to go obsolete.
The Model Super ROI by Systematic Automation is a simple printer with a modular design, extremely reliable with one to six color screen printing technology.  Incorporate our UV curing system for automated UV curing of specialty inks, offering quick dry time with vibrant colors to increase your throughput while improving quality.  The Super ROI provides linear transport of your substrates, moving in one direction with minimal lifting required to print and cure your products.
The Super ROI reduces handling time required with robot assisted product loading available, handling various sizes and shapes simultaneously.  This machine can do it all with auto loading, pretreatment options with flame treatment available, up to six color printing and finishing with a powerful UV cure to seal in your beautiful colors.
Screen Printing Manufacturer Provides Full Service from Design to Install
Systematic Automation employs knowledgeable engineers with expertise in designing a custom solution just for your process.  We provide in-depth industry knowledge of all screen-printing processes, assisting you with the perfect machine designed specifically for your application. As a leading manufacturer of vacuum tables, flame pretreatment machines and UV curing machines, we develop the total printing solution that provides maximum automation and throughput, reducing your expenses and increasing profitability.
All machines are designed and manufactured in the U.S. and undergo rigorous testing to ensure that each piece of equipment is operating to our high standards prior to delivery.  We provide ongoing service and support getting you up and running as quickly as possible, with the best printing process for your application.
Systematic Automation provides the most cost-efficient screen printing machines available today, that provide maximum throughput with high quality printing in simple to operate screen printing machines.  We are experienced in all applications requiring screen printing, vacuum systems, pretreatment and UV curing machines.
If you would like to see a screen printing machine video for a specific type of product, just contact us and we can share it with you directly.  Whether you're looking to print on small cylindrical items like a ball point pen or large items up to full size kegs, we have the machine for that and we have a video we can share with you.  We have a screen printer for virtually any application including microscope slides and even printing on chocolate candies.  Whatever your application, you can count on Systematic Automation to have a solution, and a screen printing machine video to prove it.
Systematic Automation is recognized as a leading manufacturer of versatile screen printing machines, vacuum tables, pretreatment machines and UV curing systems.  Contact us today to speak with an engineer and ask about our numerous screen printing machine videos.