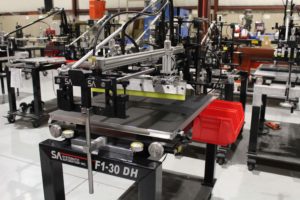 If you're looking for screen printing machine parts and accessories, check out the wide selection offered by Systematic Automation. Systematic Automation is a leading screen printing manufacturer with nearly two dozen models of screen printing machines to choose from including various parts, accessories and auxiliary equipment. We provide the most efficient and cost saving screen printing solutions available with semi-automatic and automatic screen printers for nearly any printing application imaginable.
We offer screen printing machines for flat or cylindrical items, odd sized parts and substrates of any size or shape. With in-depth expertise in all things related to screen printing and more than 35 years of experience in designing, engineering and manufacturing screen printers, vacuum tables, flame treatment machines and UV curing systems, we are your one stop solution for all printing applications including pre and post-treatment machines. Our printing solutions deliver a higher quality of decorated products with maximum throughput at the lowest possible cost.
Spare Screen Printing Machine Parts
Systematic Automation provides spare screen printing machine parts with commonality among various models for simple replacement of the parts you need. We realize the importance of keeping your machines up and running to meet demanding production schedules and provide personal assistance with an engineer waiting to take your call. A short list of some spare screen printer parts available include:
L-handle
Flow control fitting
Nylon shock absorber
Overhead cylinder spacer
3-way valve with 10 to 32 ports
4-way valve with 10 to 32 ports
Air cylinder carriage lift
Straight edge polyurethane squeegee
Quick release back lock pin
Fittings 1/8-27 NPT thread
L-shaped fittings 10 to 32 thread
Air piloted relay, 4-way
Squeegee flood air cylinder
Filter element
Filter ¼"
Regulator ¼"
Lubricator ¼"
Foot pedals
For more information on the wide selection of spare screen printing machine parts, contact an engineer to speak with a specialist about your specific screen printing needs.
Screen Printing Accessories, Options and Fixtures
Systematic Automation manufactures various specialized tooling fixtures, screen printing machine parts and accessories which adapt and expand your screen printing capabilities. We have designed tooling fixtures for a wide variety of applications worldwide, allowing us to provide standard options that would be custom features from other manufacturers. Some accessories available include:
Automatic ink dispenser – programmable and fully automatic to dispense inks and adhesives
Screen printing squeegee – we offer various options to apply ink to your product
Adjustable tilting squeegee – provides maximum control of your screen printing application
Screen tension meter – precision measuring instrument for screen tension
Tacky roller cleaner – provides a modular system for cleaning inline printers
Optical registration system – provides precision registration for multicolor printing on cylindrical products
Anti-static unit – provides anti-static systems in a modular design for various screen printing machines
Multi-color printing attachment – allows printing in up to four colors with one print cycle
Under screen wiper – automatically wipe the bottom of the screen after each print stroke to prevent excess dripping onto the substrate. This is useful when using inks of low viscosity that may run through the screen.
Stackers – we offer stackers for small to large sized substrates
Plasma and flame treatment options – pretreatment machines provide improved adhesion of inks during the printing process.
Systematic Automation offers these screen printing machine parts, accessories and options with a wide selection of printing machines. We manufacture various styles of screen printers including:
Clamshell
Harmonic lift
Turret motion
Sliding table
Inline
Rotary index
All screen printers, vacuum tables and pretreatment machines are manufactured in our state-of-the-art facility in the United States with proven proprietary technology. We specialize in delivering high quality, high performance printing machines which deliver maximum throughput in a simple to operate design.
Systematic Automation Provides Proven Screen Printing Solutions
Systematic Automation provides a wide selection of screen printing types and models which satisfy nearly any printing requirement. We offer screen printers to accommodate a wide variety products and substrates from microscope slides and small flat card stock to large canvas sails, cylindrical items as narrow as a ball-point pen and as wide as large kegs. When you are faced with challenging printing configurations, let the printing specialists at Systematic Automation show you how to achieve high productivity with high print quality, with an efficient and cost effective printing solution.
Systematic Automation provides a wide selection of screen printers, vacuum tables and flame treatment equipment all manufactured in the U.S. and tested for quality performance. We provide ongoing customer service to ensure a successful printing application. Contact us to learn more about our proven printing solutions and our wide selection of screen printing machine parts and accessories.