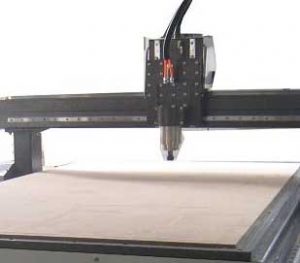 A Router vacuum table is used in a wide range of applications with new processes continually realizing the benefits of quality built vacuum tables.  CNC router applications require the use of a reliable vacuum table to hold substrates securely in place during additional processes such as grinding, machining or cutting.  There are many substrates used in CNC router applications across a wide range of industries.
The most common substrates requiring vacuum hold down force include paper, plastic, canvas, glass, plexiglass, wood, composites, steel, aluminum and any other material used in processes requiring CNC precision work. Router vacuum tables greatly improve the quality of many products manufactured with CNC technology by providing strong and reliable hold down force even during highly pressurized applications.
Router Vacuum Table Applications
Systematic Automation manufactures high performance router vacuum tables which are utilized worldwide in a multitude of applications.  We design, engineer and manufacture vacuum tables which enhance the quality of many processes through consistent and reliable hold down force, no matter the size or scope of your project.  Our vacuum tables can be found in various applications including:
Surface grinding – powerful vacuum tables provide over fifty pounds of holding power during CNC grinding applications while maintaining consistent flatness, greatly improving the quality of grinding processes.    
CNC machining – router vacuum tables improve quality with exceptional flatness and strong vacuum force, to accurately meet critical dimensions and tight tolerances.
Ultrasonic cutting – vacuum table systems enhance ultrasonic cutting processes with sacrificial sub plates containing identical vacuum holes beneficial when cutting through the workpiece.
Plotter cutter systems – a 28 mm diameter rotary blade is typically used in plotter cutter systems for effective cutting in the canvas and sail making industries, providing little contact with the table surface or sacrificial layer. A carbide straight blade is required to cut through tougher material.
Sail Making – Canvas and sail making industries make up the majority of plotter cutter systems. Systematic Automation offers large vacuum table systems to support meticulous cutting of large canvases with reliable flatness of +/-.001" per linear foot, and maximum hold down force.  
Engraving – vacuum tables improve engraving applications, holding various substrates in place for speed and accuracy, providing improved productivity and high-quality products.
Flexography – router vacuum tables from Systematic Automation support manufacturing graphic rubber rolls used in flexography machines by removing oxygen from the plate making process with controlled air flow.
Debulking and curing – Systematic Automation first introduced heated vacuum tables which provide heat and vacuum force simultaneously with heating elements located between vacuum holes to not disrupt air flow. Uniform air flow is achieved through the aluminum honeycomb core, while reaching temperatures over 250° F. Heated vacuum tables improve repeatable processes such as manufacturing lacquers or thin films.
Screen Printing – Vacuum chuck systems are used in many screen printing processes to hold items such as paper, signs, glassware, cups, mugs and other assorted items firmly in place while printing.  Systematic Automation offers a wide selection of screen printing machines to print on flat or cylindrical items with options such as vacuum systems, flame treatment and UV curing.
Systematic Automation is a leading provider of vacuum systems to support these applications and many more.  We offer extensive experience in manufacturing vacuum tables and screen printing machines, providing patented products developed with proprietary technology.  We provide one of the largest selections of screen printing machines available with dozens of models for printing on flat or cylindrical items with automatic or semi-automatic printers.  
Systematic Automation Offers Router Vacuum Tables
Systematic Automation employs highly skilled engineers who partner with you to determine the best vacuum table, options and pump to provide optimum hold down force for your process.  Router vacuum systems increase efficiency and quality of many applications, which improves productivity and profitability.  We have over 35 years designing, engineering and manufacturing durable vacuum tables constructed with only the highest of quality components.  
All manufacturing is completed in our modern, state-of-the-art facility in the United States which offers vast resources for quick turn-around time to meet your deadlines.  We understand the technology that goes into each system, offering custom designed vacuum systems and screen printing machines to meet your specifications. We set the standard for precision vacuum tables used in any application including CNC processes which require reliable computer aided control.
We offer one of the largest selections of vacuum systems available with sizes ranging from 5" x 6" up to 72" x 144", with custom sizes available.  Options include:
Formica table tops for scratch resistance

Anodizing to provide corrosion resistance

Custom hole patterns to enhance your process

Automatic pin registration

Sliding tables with up to two Axis of travel

Valves to control custom vacuum zones
Systematic Automation offers custom engineering options addressing your concerns with table top requirements including sacrificial sub plates.  Your products or substrates will be held firmly in place without moving during cutting processes which improves safety and quality. Perform changeovers quickly to improve efficiency and throughput.
Systematic Automation is a leading global supplier of vacuum table systems, screen printing machines, UV curing systems and flame treatment machines.  All equipment is manufactured in our U.S. facility and rigorously tested for quality performance prior to shipping. Contact us today to learn more about our precision router vacuum table.