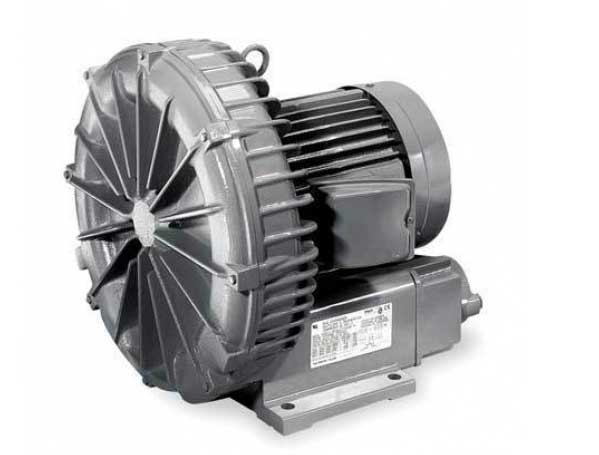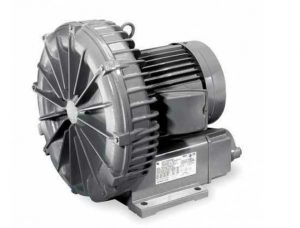 When choosing the right vacuum pump for your process it is important to know the recommended holding power for your substrate and application.  A regenerative vacuum pump generates air pressures or vacuum by spinning, oil free impellers generating centrifugal action to accelerate air forward and outward. The housing then takes effect to turn the air back to again hurl air outward.  More pressure is generated with each regeneration.
Prevent Damage to Your Vacuum Table and Regenerative Vacuum Pump
It is important to not provide more vacuum to the substrate than is needed for the application to prevent damage to the vacuum table and the vacuum pump.  Maxing out available vacuum force on your pump may overheat the pump and cause damage. For example, if 20" hg vacuum force is adequate, pre-venting the vacuum system with adjustable gates until the gauge reads 20" hg will meet adequate vacuum force without maxing out the pump.
Regenerative Vacuum Pump by Systematic Automation
Systematic Automation is a leading global supplier of vacuum tables and vacuum pumps with more than 35 years of experience designing, engineering and manufacturing high quality vacuum tables for virtually any application.
Our regenerative vacuum pump provides 56 CFM, 120 volt, 45 in. water , 60 HZ and is CE approved for continuous and quiet operation.  Vacuum valves provide exhaust for the vacuum table when shut off.
Regenerative Vacuum Pump Valves
The standard regenerative vacuum pump valve is for a 1 3/8" inside diameter vacuum hose requiring 80 psi minimum of compressed air for operation.   The vacuum valve with blowback diverts the exhaust of the vacuum pump into the vacuum table as supply air. This air flowing into the vacuum table can be easily adjusted in flow rate and force with an adjustment lever.
An adjustable intake valve provides control of the vacuum force by allowing air flow reduction to the table and controlling the amount of air which enters the table.  A foot pedal is available for activation of the valves.
Regenerative Vacuum Pump Power
Most applications work well with 1/6" diameter holes spaced 1/2" apart.  The 1/16" hole with full vacuum force will not dimple materials such as vinyl sheets or thin polycarbonate with .005" thickness.  Smaller holes at 1/32" are the smallest hole diameter available as an optional feature.
The vacuum hole size of 1/16 " provides greater vacuum force than may be realized as it is held by much more vacuum force than what is provided just through the 1/16" hole.  Because air is being removed all around the hole as well as through the hole the holding power is greatly increased. This is less true for flexible materials that bend easily or can peel back.
Our standard regenerative vacuum pump draws 1 psig, or 45" of water with a vacuum force of 1 3/4 lbs.   It is recommended to keep the vacuum force at the minimal level required to maintain consistent flatness.  Starting new processes with the adjustable vacuum gate open and adjusting accordingly is the best way to determine the optimum force required.
Industrial Vacuum Pump Solutions
Systematic Automation offers decades of experience in designing and engineering vacuum table systems which improve a myriad of applications.  Our vacuum tables are utilized in many manufacturing and commercial processes to improve product quality and efficiency with reliable vacuum hold, quick and easy changeovers.
We provide a wide selection of standard sizes from small to large with custom tables sizes and options available. All equipment is constructed of the highest in quality materials and manufactured in our state-of-the-art modern, U.S. facility.  We provide engineering support and process analysis to construct the perfect vacuum table and vacuum pump for your application.
We apply our industry knowledge through process analysis and identify vacuum solutions which improve process performance and quality.  Our vacuum tables set the industry standard with +/-.001" per linear foot providing consistent flatness in vacuum CNC applications, screen printing, sail making, cutting, grinding, milling and many additional processes.
Systematic Automation is a leading manufacturer of vacuum tables and screen printing machines utilized worldwide in a multitude of applications.  We provide a wide selection of vacuum table sizes and options with custom designed solutions available from skilled engineers. Contact us today to learn more about our vacuum table solutions and regenerative vacuum pumps.