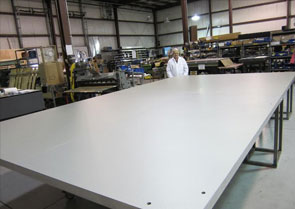 When searching for quality vacuum tables for sale there are a number of factors you should consider. Vacuum tables are used in a wide range of processes which require reliable hold down force of various products and substrates. Choosing the right vacuum table for your application is a very important decision that may affect the quality and productivity of your process. When searching for quality vacuum tables and pumps for your application, factor in the following considerations:
Air permeability of your substrate or product
Surface area of your substrate or product
Friction between the substrate and vacuum table surface
Type of application or process
Air Permeability of Your Substrate or Product
Consider the air permeability of your substrate or product when searching for vacuum tables for sale as this directly impacts the amount of vacuum force needed in your process. Products with little to no air permeability such as a solid sheet of metal, aluminum or wood will require less vacuum force than items with more air permeability. While some people may think that the more vacuum force the better, this is not always the case.
The permeability of your substrate along with additional considerations will determine the amount of vacuum force required.
Surface Area of Your Substrate or Product
The surface area of your substrate is of very important consideration when considering various vacuum tables for sale, as odd shaped or smaller items will require increased vacuum force over larger substrates especially solid sheets.
Friction Between Substrate and Vacuum Table Surface
The amount of friction between your substrate and the vacuum table surface is an important consideration when evaluating vacuum tables. Vacuum tables with a non-slippery surface may hold your product more securely in place than a slippery surface, depending upon the surface and size of your substrate.
Type of Application or Process
Vacuum tables are used in many applications with various engineering features required for precision processes. Computer numerically controlled (CNC) processes are consistent and reliable, requiring the same performance from the vacuum table. Vacuum tables for CNC router applications must maintain consistent flatness and vacuum force to support precision or critical processes such as CNC router applications.
For applications on larger substrates, you'll want to be sure that your vacuum table maintains a steady level of flatness across the entire surface area.
Vacuum Tables for Sale Support Many Processes
When evaluating vacuum tables for sale, speak with the manufacturer about the process you intend to utilize your table in for any input on available features. Vacuum tables are manufactured to support a wide range of applications to enhance manufacturability, quality and productivity. Vacuum tables are utilized in many applications which include:
Surface grinding
CNC machining
Plotter cutter processes
Laser cutting
Engraving
Thermoforming
Sail making
Screen printing
Material handling systems.
Ultrasonic cutting
Alignment and assembly operations
Vacuum tables must be constructed of quality material, with consistent vacuum force and reliable flatness. Quality built vacuum tables support these and many other processes worldwide.
Systematic Automation Offers Quality Vacuum Tables for Sale
Systematic Automation has been a leading manufacturer of vacuum tables and vacuum pumps for over 35 years. We offer quality made vacuum tables for sale which set the industry standard of +/-.001" per linear foot for vacuum tables of all sizes. Our standard sizes range from 5" x 6" to 72" x 144", with custom sizes available. No job is too large or small for our experienced engineers.
We understand the technology behind every vacuum table and offer expertise in delivering the right engineering features for your application. Systematic Automation provides the right vacuum system for your process with the features that provide improved quality and productivity. Available engineering features on our vacuum tables include:
Automatic pin registration
Custom designed zones with valves for complete control
Heated vacuum tables
Custom hole patterns
Formica table top surface to reduce conductivity issues
Anodizing table surfaces for corrosion resistance
Systematic Automation offers these engineering features and many more, with superior components, materials and manufacturing of the most reliable vacuum systems available. We offer quality built vacuum pumps for any application, with exceptional customer support to ensure your total success. Recognized as a leading manufacturer of screen printing machines, vacuum tables and flame treatment equipment, Systematic Automation is your one stop solution for cost efficient, automated processes.
Systematic Automation offers over 35 years of expertise in manufacturing vacuum tables used worldwide in a multitude of applications. We offer high quality equipment which is thoroughly tested for quality performance prior to shipment. Contact us to learn more about our many standard and engineering features of our quality made vacuum tables for sale.