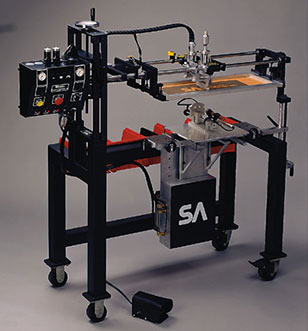 Systematic Automation Inc. Farmington CT has developed the
Model HLT Screen Printing Machine
for printing up to three inches deep into a plastic tray.
The printed image can be as close as 1/8″ (3 mm) to the inside wall of the tray. The application shown is for mammogram breast paddles. Printing this close to a part edge and this deep into a part was thought to be impossible prior to this development.
The screens are preregistered to the master screen chase. Change over from one size plastic part to the next is done while maintaining registration.
The image is preregistered on the screens in relation to the stops for the various size plastic parts. For more information, please call the factory directly at 860-677-6400.