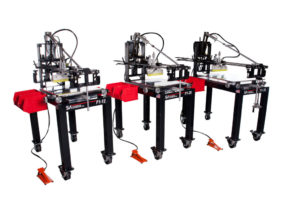 Advancements in screen printing technology provide industrial screen printing solutions to any industry.  An industrial screen printing machine can easily accommodate screen printing on nearly any product or substrate including large-format printing and complex, precision printing. Screen printing can improve product quality and efficiency in your process whether you are a small company with minimal in-house printing processes are large OEMs with high-volume screen printing applications.
Choosing the right automatic screen printing machine and manufacturer is key to achieving maximum productivity and profitability.  Commercial screen printing machines are utilized in many industrial settings and relied upon for accurate and efficient printing processes. Keep your product flow efficient and profitable with the screen printing machine designed for your business.
Industrial Screen Printing Machine Designed for Your Business
Screen printing should be one of the most profitable processes in your business.  An industrial screen printing machine can facilitate a speedy assembly line, or it can be the bottleneck of your product flow.  Make sure that your screen printing process is designed around your business and your processes to facilitate efficient movement of product while maintaining a high level of quality.
Consulting with an experienced screen printing machine manufacturer is important to achieve maximum benefits with quality and efficiency. An experienced manufacturer of screen printing machines will have a wide selection in semi-automatic and automatic models for printing on flat, cylindrical or odd shaped products in varying sizes.  Systematic Automation is a screen printing manufacturer recognized for delivering printing solutions with screen printers designed around your business.
Systematic Automation Designs Industrial Screen Printing Machines
Systematic Automation has over 35 years of experience designing, engineering and manufacturing commercial and industrial screen printing machines.  We offer a wide selection of screen printing machine models for printing on nearly any product or substrate imaginable. We provide a total turn-key automated printing solution with quality built vacuum table systems to hold your product firmly in during printing which improves quality and efficiency.  Our pre-treating flame treatment machine or post-treatment UV curing system facilitates automated printing solutions which improve your process.  No matter the industry, if you need an industrial screen printing machine, Systematic Automation has the solution.
Industrial Screen Printing Machine Applications
Systematic Automation offers commercial and industrial screen printing machines for any application, with nearly two dozen different models and styles to choose from.  We have a solution for printing on flat items, cylindrical items or odd -shaped products. Our wide selection of screen printing machines includes:
Clamshell
Harmonic Lift
In-Line
Turret Motion
Rotary Index
Sliding Table
Model F1 Series
The Model F1 Series is a clamshell, precision screen printer that prints on either flat or cylindrical products.   The F1 offers versatility with flat or cylindrical printing and quick changeover and up to 3,600 parts per hour depending on the application.   Companies utilizing the Model F1 Series realize many benefits across a broad range of industries such as:
Labels
Panels
Ad specialties
Nameplates
Ceramic mug screen printing
Pens
Plastic cups and containers
Plastic bottles
Glass bottles
Growlers
Tumblers
Lanyards
Model Super ROI
The Model Super ROI is dedicated to cylindrical printing and provides precision, efficiency and a quick return on investment.  This precision multicolor printer can screen print up to six colors on various cylindrical items. The Model ROI features linear motion bearings rated for over 300 million cycles and stainless steel printer shafts.  Many industries realize significant benefits from this industrial screen printing machine including:
Glassware
Mugs
Jars
Wine bottles
Oil filters
Olive oil bottles
Tubes
CC-5000 Automatic Card Printing Machine
The CC-5000 by Systematic Automation is an industrial screen printer that delivers reliable and rapid performance.  The ideal screen printer for plastic ID cards, the CC-5000 is a fully automatic screen printer with 100% pneumatic operation for smooth and quiet operation and easy adjustments to accommodate varying sizes of product.  This automatic industrial screen printing machines enhances many commercial processes such as screen printing on:
Plastic cards
Luggage tags
Lighters
Nail files
No matter your commercial or industrial application, Systematic Automation is the screen printing manufacturer with the right machine for you.
Systematic Automation Provides Customized Printing Solutions
Our skilled engineers partner with you to select the screen printing machine that delivers maximum value for your business operation.  All equipment is manufactured in our state-of-the-art facility in the U.S., constructed with quality components and tested rigorously for quality performance prior to shipping.  We partner with you to provide training and ongoing customer support to ensure your total success.
Systematic Automation offers customized screen printing solutions with auxiliary equipment such as vacuum tables, pre- and post-treatment equipment.  We provide maximum value with the widest selection of screen printers available combined with exceptional customer service. Contact us to learn more about our vast product line and for answers to all your questions about industrial screen printing machines.