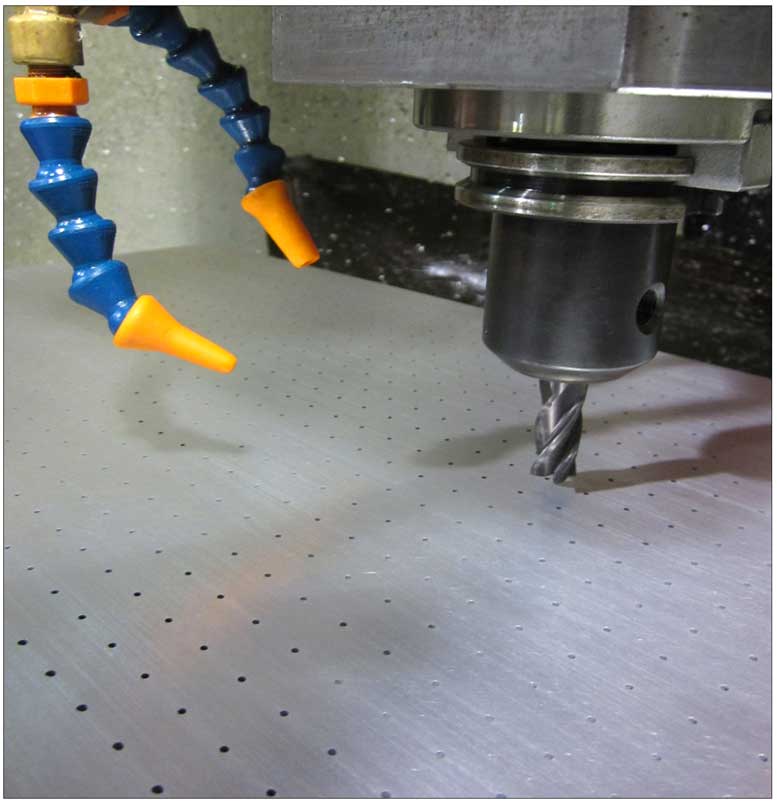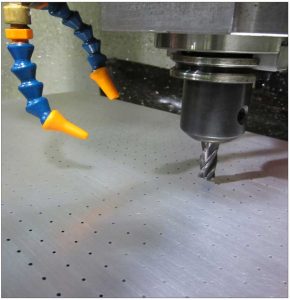 Utilizing the right vacuum table for CNC milling machine processes can make all the difference between the success or failure of your operation.  Holding your substrate in place during drilling or cutting processes is critical with computer numerically controlled (CNC) precision operations. CNC milling machines with rotating cylindrical cutting tools require all supporting processes to occur smoothly, with substrates maintaining their position during precision milling operations.
CNC Milling Applications Which Benefit from Vacuum Tables
There are so many CNC applications that stand to benefit from utilizing high performing vacuum tables we simply cannot list them all.  Some applications which benefit from a high performing vacuum table for CNC milling machine processes and many other precision cutting or drilling applications include:
CNC Machining

CNC Routing

Precision Cutting Systems

Surface Grinding

Die Cut Sheet Weeding Stations

Cutting Systems

Alignment Tools

Plotter / Cutter Processes

Ultrasonic Cutting Machines

Engraving

Flexography

Paper Making

Sail Making

Photography

Thermoforming

Laser Cutting

Material Handling Systems
This is a short list of some applications and manufacturing processes where a vacuum table enhances CNC operations, including milling, cutting and drilling applications.  
Systematic Automation Offers Vacuum Tables for CNC Milling Machines
Systematic Automation has been manufacturing vacuum tables since 1983, designing, developing and bringing to market vacuum tables which set the industry standard for flatness and reliable vacuum force.  Our vacuum tables are used in a multitude of applications and CNC processes around the globe, providing superior performance with +/- .001" per linear foot, even in our oversized or custom designed vacuum systems.
Systematic Automation Offers Custom Designed Vacuum Tables
With over 35 years of experience, Systematic Automation knows how to select the right vacuum table system with the right pump selection to meet your specifications.  We offer two vacuum pump styles and a wide range of table sizes to suit your needs. If you have challenging configurations beyond our standard size and specifications, our skilled design team works with you to provide a solution which meets your criteria.
Our pump styles include the Rotary Vane pump, for high flow in conjunction with minimal vacuum leakage without jeopardizing vacuum force.  The Diaphragm pump provides maximum holding power when a proper seal is between the work piece and the table, although even a small leak with reduce the overall holding power. 
Our standard sized range from 5" x 6" to 72" x 144" and ranging in thickness from 1 3/16" to 1.5".  All our tables with 1 3/16" thickness have a flange of 3/8" around the perimeter for drilling through or clamping.   We offer vacuum port connections from either the bottom of the table or from any side. If a vacuum source is chosen from the side rather than the bottom, there will not be a flange on the table side with the manifold.
Systematic Automation offers the widest selection of vacuum table sizes and options, with custom designed solutions available to suit your application.  We provide additional flanges or drill and tap any additional holes required to suit your application. If drilling or machining through your workpiece, sacrificial sub plates are available with corresponding vacuum holes.  
Superior Vacuum Table Construction
With Systematic Automation, you can count on quality construction. The standard table top skin is 1/8" in thickness constructed of tough aluminum alloy with a back up layer of epoxy resin.  This durable combination provides tough resistance to dings and dents. The aluminum honeycomb core provides even vacuum flow with resistance to temperature change, maintaining consistent flatness in critical applications.  A 1" x 1" manifold is surrounding the slotted honeycomb core internally providing even vacuum distribution across the vacuum table top.
Custom Designed Options
Custom designed sliding vacuum tables can support CNC milling operations on two axis of travel.  Different vacuum table zones can be actuated for specific areas of vacuum required in specific processes.  Table surfaces made of Formica assist with process prone to conductivity issues or products sensitive to scratches. Anodizing your table surface will aid with corrosion resistance and added insulation.
Quality and Tech Support
Systematic Automation offers a full line of precision vacuum tables in a multitude of standard sizes and options to choose from with custom designed solutions available from skilled design engineers.  We support OEMs worldwide with high performing vacuum tables for CNC milling machines and many other processes with ongoing technical support and exceptional customer service.  
Our vacuum tables help OEMs to maintain part integrity with quality production while improving throughput and productivity.  All our vacuum tables, screen printing machines, pre-treatment and post-treatment machines are constructed in the United States and tested rigorously for quality performance prior to shipping.
Systematic Automation has over 35 years of experience in designing, developing and manufacturing high performing vacuum tables boasting superior flatness and vacuum force.  Contact us today to lean more about our high performing vacuum table for CNC milling machine applications.