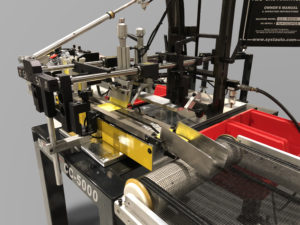 There are many options available for ID card printing and understanding the benefits of screen printing will help you to select the fastest single screen printing machine for ID cards. Screen printing is extremely cost-effective for high volume print jobs, can be quite versatile with printing on almost any product or substrate and produces intricate designs with fine details. One plastic ID card printer provides all these benefits as well as offering the fastest card printing process available producing one card per second.
The CC-5000 ID card printer from Systematic Automation offers all the benefits of screen printing with modular options to make your card printing process fast and efficient. Options include an automatic feeder system which removes dust prior to printing, an automatic stacker, ultraviolet (UV) curing options and anti-static solutions to make sure your cards do not stick together. This is a common problem with generic plastic card printers and can produce damaged product with smudged inks.
CC-5000 Automatic Card Screen Printing Machine
This automatic screen printing machine provides rapid and reliable performance with printing on small flat items such as ID cards, luggage tags and even lighters. Pneumatic controls provide quiet and smooth operation with consistency, reliability and extremely efficient high output. High-tech engineering make this single screen printing machine stand out from the rest with high-performance, modular components and a reliable, simple design.
CC-5000 Standard Features
The CC-5000 ID card printer revolutionizes screen printing plastic cards with high-tech development available in an affordable and simple design. Standard features include:
Pneumatic control panel
Emergency stop
Single cycle push button set up
Variable stroke length
Adjustable print stroke speed
Adjustable flood stroke speed
Pretreatment system available for improved adhesion
Anti-static systems for improved quality
Clean wipe stations
Six digit reset counter
Machine leveling feet
Vacuum pump
CC-5000 Engineering Features
Systematic Automation designs, engineers and manufacturers all screen printing machines with high-quality components in a state-of-the-art U.S. facility. Our designers and engineers are the best in the business as proven by the following engineering features of the fast and efficient CC-5000 ID card printer. Engineering features include:
100% pneumatic operation
Will not burn out, overload or become obsolete
Simple, reliable air logic controls
Stainless steel air cylinders
Hardened, ground and polished shafts
Precision machine tools easily adjust for various product sizes
Linear ball bearings rated for more than 300 million cycles
Universal screen mount
Easy set up and screen cleaning
These standard and engineering features and many more are available with this fast and efficient ID card printer. Save time and money while printing plastic cards with high-quality and high-volume printing solutions. Incorporate with the Ultra Light UV System to instantly cure coatings, adhesives and vibrant inks that will last. Add the Model STK for a fully automated stacking system.
Ultra Light UV Conveyor
The Ultra Light UV Conveyor system by Systematic Automation features up to 400 W per inch of curing power combined with a Teflon coated, rugged conveyor belt designed for heavy, continual use. UV curing drastically improves cycle time increasing throughput and profitability.
Model STK
The Systematic Automation STK Stacker provides a fully automated printing and stacking operation which easily adjusts to accommodate various sizes. Print and stack products ranging from 1" x 1.5" up to 7" x 6". The STK Stacker includes a resettable counter and a built in alarm so your operator can focus on other things and be alerted when the stacker is full.
Systematic Automation offers fully automatic, fast and efficient ID card printing solutions with this one single screen printing machine and simple modular attachments. Options which improve quality and efficiency include pretreating, pre-printing, anti-static, auto loading and unloading with a detector to stop the machine if the feeder magazine is empty, and much more. We custom design your printing solution to meet your specifications, with the CC-5000 found worldwide across many applications.
Systematic Automation designs, engineers and manufactures world-class screen printing machines and vacuum table systems for a wide range of commercial and industrial applications. We offer quality components, skilled and experienced engineers, training and exceptional customer support. Contact us for personal assistance in selecting the single most effective screen printing machine for your process.