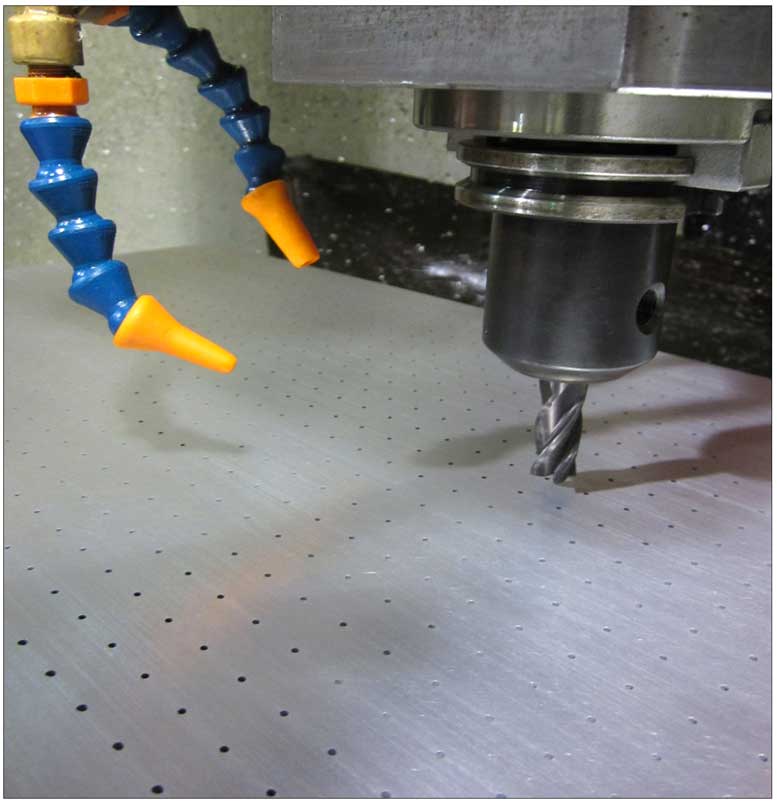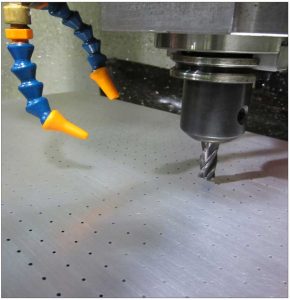 Reliable hold down force is necessary in many computer numerically controlled (CNC) applications, as the right CNC vacuum hold down table can mean the difference between success or failure in your process. CNC operations require substrates to be held firmly in place while performing additional operations such as cutting, routing, drilling or grinding. Choosing the vacuum hold down method that provides optimum vacuum force to support your process is critical for smooth operations and quality CNC processes.
Not all CNC vacuum hold down tables are created equally, just as your process may have unique requirements or nonstandard configurations. You need a superior holdfast vacuum method that is part of a well thought out plan for maximum effectiveness with optimum vacuum force. Vacuum systems as part of a CNC application must provide reliable vacuum hold down that meets the tough demands of your application with consistency.
Vacuum Table Specialists Develop Optimum CNC Vacuum Hold Down System
It is important to evaluate your substrate and determine the best hold down solution for your process. CNC vacuum hold down tables are used to enhance automated processes such as CNC router or cutting of many different substrates including wood, steel, plastic, plexiglass, aluminum and many others. Consulting with a vacuum table expert for analysis of the most effective holdfast vacuum solution for your CNC application is the best way to make sure that you have the most effective and cost efficient system.
Vacuum tables may be customized to your process with custom designed hole patterns and different zones controlled by valves. A reputable vacuum table manufacturer will offer many options to suit your application based on experience and skill. An experienced vacuum table provider will know how to develop the best system for your process to provide optimum vacuum force, reliability and consistency to contribute to a quality process.
Systematic Automation Offers Custom Designed CNC Vacuum Hold Down Tables
Systematic Automation has over 35 years of experience in designing, engineering and manufacturing high quality, superior CNC vacuum hold down systems. Our engineers are skilled in analyzing your process to determine the optimum vacuum force for your application. We provide vacuum systems with consistent flatness of +/-.001" per linear foot, setting the industry standard for reliable flatness no matter the size or scope of your project.
We offer a wide selection of standard sizes and options, with custom designed vacuum solutions available from our skilled engineers. Our vacuum tables range in size from 5" x 6" up to 72" x 144" and custom sized tables available upon request. Vacuum chuck systems with a table thickness of 1 3/16" have a 3/8" flange all around the perimeter for easy clamping or drilling. Vacuum port connections can be located on any side or from the bottom of the table.
For tables with vacuum ports located on the side, that side will not have a flange on the same side as the manifold. We will drill and tap additional holes or design additional flanges to provide the optimum vacuum hold down force for your process. Sacrificial sub plates are designed and implemented with corresponding vacuum holes to protect your table surface.
We offer many standard engineering features with our vacuum tables along with many available options. We design and engineer CNC vacuum hold down systems with specially located vacuum hole patterns or various vacuum zones controlled with vacuum valves. We provide table surface options such as anodizing for added insulation and resistance to corrosion, or a Formica table top which assists in processes prone to conductivity issues. Our experienced engineers will help to develop the right type of vacuum pump for your process, designed for optimum performance to meet your specifications.
Systematic Automation Supports CNC Vacuum Hold Down Processes
Systematic Automation provides support to OEMs worldwide with high quality, reliable and consistent CNC vacuum hold down systems. We provide ongoing service and support to ensure your total success. We design, engineer and manufacture superior vacuum systems, screen printing machines, flame treatment machines and UV curing systems. All equipment is manufactured at our modern facility in the U.S. and tested rigorously for quality performance prior to shipping.
Systematic Automation is a leading manufacturer of high performance vacuum tables offering custom designed solutions and skilled process analysis. Our vast resources allow us to deliver the optimum vacuum system without spending more than you need to. Contact us today to learn more about our custom designed solutions for the optimum CNC vacuum hold down system.