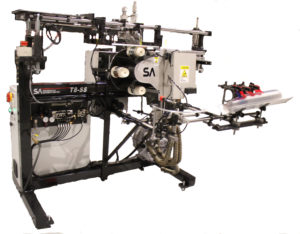 Screen printing is big business and utilized in a multitude of applications across many industries. There are so many applications and processes which utilize screen printing printers it is impossible to list them all. Stop and think about the items that you use every day such as coffee mugs, plastic cards, ballpoint pens, bottles, clothing, numerous printed signs, automobile parts which have printing on them and you'll soon realize that items and products which require screen printing are truly endless.
So how do you know which screen printing machine is best for your application? Of course, it's best to consult with a screen printing expert and manufacturer of screen printing machines, although we have listed some of the screen printers that we consider to be the best choice for certain printing applications.  Here are just a few of some common applications which require screen printing and the right printer for the job:
Mug Screen Printing
Screen printing on mugs is a very popular printing process, with countless mugs printed with designs, logos, inspirational sayings and promotional material. Companies know that providing a versatile coffee mug to a prospective buyer will put their name in front of that buyers face literally every day. Some of the best screen printing printers for mugs include two models designed and manufactured by Systematic Automation, the Model F1 and the Model T8-SS.
The Model F1 is reliable and versatile with many options available to add modular equipment to grow with your business. The Model T8-SS provides automated, precision screen printing on mugs with up to 2,000 products per hour depending on the application.
PVC ID Card Printer
Of all screen printing printers evaluated for high performance printing on plastic ID cards, one machine stands out from all the rest as the best choice for high-quality PVC ID card printing. Systematic Automation offers the Model CC-5000, an inline, fully automatic screen printer proven to outperform other screen printing machines by processing plastic cards quicker than one card per second.  The CC-5000 is the top choice for PVC ID card printing, as well as other small flat products like luggage tags and lighters.
Ballpoint Pens
Ballpoint pens are something that we use every day and many companies produce thousands as promotional give away items. Screen printing on pens is a popular screen printing process, with the Model Vinci 1452 setting the industry standard as the best pen barrel screen printing printer.  This fully automatic, high-speed, turret motion screen printing machine processes pen barrels up to 5,400 parts per hour with precision accuracy.  Pen barrels are printed, dried with forced hot air and ejected completely finished and dried.
Bottles and Tumblers
Printing on bottles and tumblers is a very popular screen printing process with companies always searching for the best bottle screen printing printer. Systematic Automation offers a couple of screen printing machines which provide high quality screen printing on bottles and tumblers such as the Model F1–DC, dedicated to cylindrical printing.
The Super ROI is another popular choice for screen printing on bottles which provides added automation and quick changeover with the ability to print on different size cylindrical items without time-consuming tooling changeovers. Both of these screen printing machines are simple to operate and constructed with high-quality components to deliver proven, long lasting performance.
Paper and Napkin Screen Printer
Printing on paper and napkin products can be tricky without the right screen printer. The Model 810 is the best choice for printing on paper and napkin products with high speed printing producing up to 3,600 products per hour.  The Model 810 is a Clamshell printer with 100% pneumatic operation providing smooth and quiet printing with no chance of electrical parts becoming obsolete.
Systematic Automation offers the widest selection of screen printing machines for virtually any application. When you want to know the best screen printer for your process, go straight to the manufacturer for expert consultation. We provide guidance in selecting the right screen printer for your project, engineering features and benefits, customized options, training, customer service and ongoing support.
Systematic Automation is regarded as an authority and leading manufacturer of screen printing machines and vacuum table solutions. All machines are manufactured in our modern US facility and found worldwide in endless applications. Contact us to learn more about our proven screen printing and vacuum solutions as well as how to choose the right screen printing printer for your process.