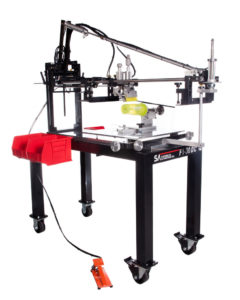 Purchasing the perfect screen printing machine for your business is a difficult decision.  You'll need it to perform high quality screen printing, to operate efficiently with the maximum throughput allowed to maintain quality printing, and to be a simple and easy screen printing machine to operate. Screen printing should be able to cut down your costs, businesses are built around printing so clearly there is money to be saved and made. The easiest screen printing for you will have variables that need to be answered such as your product selection, its. potential for automation and how much you want to invest.
Systematic Automation Offers High Performing Yet Easy to Operate Screen Printers
Systematic Automation is a leading screen printing machine manufacturer, with dozens of models to choose from.  We have over 40 years of experience in designing, engineering and manufacturing total printing solutions for businesses and OEMs around the globe.  Screen printing should be the most profitable operation in your business, and with an easy screen printing machine it can be.
Semi-Automatic and Automatic Screen Printers
We offer dozens of models of semi-automatic and automatic screen printing machines with capabilities to print on either flat or cylindrical items with one or multi-color printing.  
Model F1 Screen Printing Machine
Our Model F1 screen printer is our most popular screen printing machine. It is our entry level unit but is often purchased for low-skilled labor to print as it is user friendly.  The Model F1 is a completely pneumatic semi-automatic printer, designed with simplicity in mind. This blue-collar workhorse of a printer combines affordable cost with high quality, delivering reliable and dependable performance.  The F1 is one of our most versatile printers offering the capability to print on either flat or cylindrical products, with quick changeover in just minutes.
Like all our printers, the F1 can be customized to include attachments suitable for future applications to grow with your business.  
Model F1-DC Screen Printing Machine
For a screen printer that is just as easy to operate as the Model F1, but with focus on cylindrical items, the F1-DC delivers with simple operation and high performance.  The F1-DC is brilliantly designed for versatility with easy operation, delivering high precision performance the same as all our screen printers. This versatile and easy screen printing machine is designed with our quick change dedicated tooling system, allowing operators to switch from one product to another in seconds.  No adjustments are required for screen height, image alignment, centerline of the squeegee, eliminating the need for skilled operators to deliver high quality products.
These clamshell printers provide simple operation with high quality results.  We provide more than twenty different models including Clamshell Printers, In-Line Automatic Screen Printers, Turret Motion Printers, Rotary Index Automatic Screen Printers, and Sliding Table printers.
Super ROI
The Super ROI screen printer will faithfully produce day after day, year after year, decade after decade.  With simple and easy screen printing machine controls, the Super ROI is a rugged, durable and reliable screen printer offering high performance and productivity with low maintenance.  With no computers or control boards to become obsolete, the Super ROI is a screen printing machine that delivers quick ROI and continues to pay for itself year after year.
The Super ROI by Systematic Automation is a one to six color screen printer which incorporates simple yet effective servo technology.  The simple linear transport in conjunction with minimal lifting for printing or curing reduces handling time of substrates, promoting fast and efficient printing with high quality results.  Cylindrical products are either loaded manually or automatically with the ROI detecting the presence of product to either flame treat, print or cure for an all-in-one total printing solution.
Flame Treatment Provides Necessary Pre-Treatment Process
Printing on plastics is tricky without preparing the surface for ink adhesion.  Flame treatment processing is possible prior to printing to prepare surfaces to accept and retain screen printing ink for long lasting high-quality results.  
UV Curing Seals in Vibrant Colors
With the option to include our Ultra Light UV System, you can seal in vibrant colors with a strong and durable printing process that will not fade or wear under pressure.
Systematic Automation is a screen printing manufacturer that does a lot more than manufacture and sell you printing equipment.  We listen to your requirements to provide a total printing solution that meets your specifications, with the most efficient screen printing machine combined with modular attachments to improve efficiency and quality.  Our vacuum tables set the industry standard with reliable flatness and vacuum force, holding substrates firmly in place during screen printing or curing processes.
Systematic Automation leads the industry with high quality screen printing machines, vacuum tables, flame treatment and UV curing systems.  Contact us today to learn about our high performing, yet easy screen printing machine solutions.