Pen Screen Printing Machine
Systematic Automation is known as the leading
pen screen printing machine
manufacturer, bringing cost-effective, efficient solutions for your promotional printing requirements. We have more than thirty years of experience designing innovative screen printing equipment, setting the standard and leading the industry in screen printing manufacturers.
Features of Pen Screen Printing Machines
Systematic Automation manufactures two different models that are equipped to provide efficient and professional screen printing on pens. Our Model F1 Semi-Automatic Screen Printer is a reliable, cost-effective yet simple design providing high quality professional results with precision printing. The Model F1 comes with standard features of variable flood bar and carriage down speed with adjustable print stroke length. This model also has adjustable squeegee pressure, foot pedal cycle start, adjustable screen lift height, air shut-off and heavy-duty X, Y and angular micro adjustable table. Additional options include dual print head for precise squeegee pressure, automatic ink dispensers, and can be coupled with a vacuum table.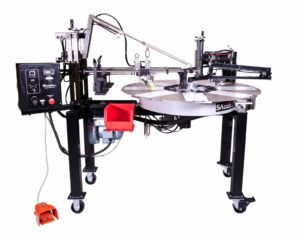 Our Model RC-1 Semi-Automatic Screen Printer utilizes all mechanical Geneva indexer providing smooth acceleration and deceleration dual motion, with a simple overload clutch. The controller consists of a series of adjustable cams and pneumatic valves, eliminating the problem of electrical component obsolescence. This simple and reliable screen printing machine will provide years of hassle-free maintenance with optimal performance.
The RC-1 has a unique ability to print on items that are difficult to hold, including three dimensional products, and is used in various industries including decorative glass, ceramic, pharmaceutical, electronic, cosmetic and automotive in addition to promotional applications such as pens and various other items. This model may also be integrated with our UV light station and customized to your process providing fast and efficient results.
Systematic Automation provides simple yet unique and cost-effective printing solutions with patented technology. We are global leaders in automation solutions for your screen printing process. Contact Systematic Automation to learn more about our expertise and the benefits of using a pen screen printing machine.