One or Six Color Cup Screen Printing Machine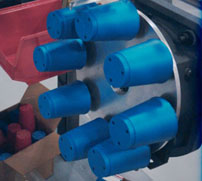 Printing on Styrofoam or plastic cups, mugs and other cylindrical drinkware products requires a cup screen printing machine with special tooling that will not damage sensitive foam products.  Whether you want to print in one color or multiple colors, Systematic Automation offers a wide selection of screen printing machines with turnkey solutions for screen printing on cups of varying sizes and material make up.
We offer screen printing machines for virtually any application on any size of product, with quality made printing machines in varying designs including Clamshell, Harmonic Lift, Turret Motion, Sliding Table, Inline and Rotary Index screen printers.
Model T8-SS for Foam Cup Screen Printing
The model T8-SS cup screen printing machine offers special tooling to print on various cylindrical items including foam cups without causing damage to sensitive cup material.  Special tooling on this fully automatic screen printer provides quick changeover between tooling in less than one minute. Maximize productivity by incorporating our turnkey printing solutions including flame pretreatment equipment and UV curing with automatic loading and unloading.  Foam cups are stacked neatly for packaging after printing.
The Model T8-SS is a rotary index printer designed with patented technology for high volume and continual production, supporting 3 shifts per day with reliable operation.  This workhorse will consistently deliver accurate printing in tight tolerances with servo driven, rotary index technology combined with optical and mechanical registration. Options include part inflation of soft sided products and multi-color printing.   
Obtain up to 2,000 parts per hour or add more stations to the standard 8 stations with robotic loaders to maximize throughput.  Features include touch screen controls, UV light system, quality bearings rated for more than 300 million cycles, UV or solvent based inks, Quartz plate for UV spin, and many more high-tech features and options to enhance your printing process.
Model PT-8 is a High-Speed Plastic Cup Screen Printing Machine
It's never been easier to print on plastic cups that with the Model PT-8 by Systematic Automation.  This cup screen printing machine offers high-speed printing in a low-cost turret motion screen printer for printing on cups and a wide range of cylindrical items. Quickly and easily change from one product to another with our user-friendly dial changeover design.  
This screen printer features simple operator controls in a completely pneumatic system with no electrical components that will go obsolete or burn out.  Operators can load or unload while the PT-8 is printing in auto-cycle mode. Our user-friendly design with simple operation equals cost savings to you.
The Model F1-DC for Easy and Affordable Cup Screen Printing
The F1-DC screen printer is recognized as one of the most versatile screen printing machines available with easy operation and versatility to changeover between items as quickly as 30 seconds.  The F1-DC produces up to 3,600 parts per hour, dedicated to varying sizes of cylindrical items, while the Model F1 has the versatility to print on either flat or cylindrical items.  
Super ROI Automatic Multi-Color Cup Screen Printing Machine
The Model ROI is a precision Inline printer, offering one to six color printing with Allen Bradley servo technology.  With no computers or dedicated control boards, the Super ROI boasts a simple design with durable components built in our modern facility in the U.S. The Super ROI will pay for itself over and over again while producing faithfully for many years with no concern of obsolete electronic parts or components.  
This screen printer moves your product in linear transport with minimal lifting for maximum productivity. Incorporate the Ultra-Light UV system for additional cost saving efficiencies.  Products are loaded in the wide loading area where the Super ROI detects part presence, performing flame treatment, printing, and UV curing if utilized at an efficient rate you'll be amazed with.  
Check out the Model UVSP, Systematic Automation's patented curing system to incorporate for added efficiency with quicker drying times and improved quality.  
Systematic Automation Offers a Wide Selection of Screen Printers
No matter your requirements, Systematic Automation is the leading screen printing manufacturer with a printer just for you.  We'll match your application to the best machine to provide successful results without trying to sell you more than what you need.  We offer printing solutions, for virtually any application in any industry.
Systematic Automation designs, engineers and manufactures screen printing machines, vacuum table systems, UV curing machines and flame treatment equipment.  We provide ongoing exceptional customer service to ensure you success and total satisfaction. Contact us today to learn more about our automation solutions with high performance cup screen printing machines.