Cost Efficient Screen Printing Machine for Bottles
Recommended Printers For Your Bottles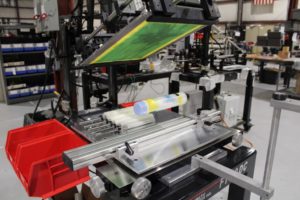 Finding the right screen printing machine for bottles requires a versatile printer to accommodate various sizes with quick changeover capabilities. Moving quickly from one bottle size to another increases print cycle time, productivity and profitability. Easy operation, lower labor costs and quick cycle times can make screen printing one of the most cost efficient and profitable aspects of your business.
When searching for the right screen printing machine for your bottles, check out the Model F1 and F1-DC by Systematic Automation. Known in the industry as one of the most versatile screen printing machines available, the Model F1 prints on either flat or cylindrical items while the DC is dedicated to cylindrical printing. This printer model is reliable and consistent, producing up to 3,600 parts per hour depending on the process.
Model F1-DC Versatile Screen Printing Machine for Bottles
The Model F1-DC cylindrical screen printing machine for bottles provides quick changeover with dedicated universal ware-holder tooling and an independent flood bar. The squeegee speed and height are adjustable to provide endless options with various bottles. Simple operation is achieved with easy image alignment simple adjustments and the hinged rear screen frame holder which provides easy access.
The Model F1 and F1-DC provide the perfect printing solution for flat or cylindrical items with simpler operation which eliminates the need for skilled operators and reduces labor costs. This screen printing machine will consistently perform when versatility matters, providing long lasting cost-efficient printing solutions.
Standard Features of our Screen Printing Machine for Bottles
Standard features alone of this versatile screen printing machine provide maximum value to printing processes. The variable squeegee speed and flood bar with the heavy duty adjustable X,Y & angular micro table and foot pedal start provide easy operation without sacrificing quality. Steel casters provide portability with a durable steel base.
Engineering Features of Versatile Bottle Screen Printing Machine
Completely pneumatic air operation delivers a smooth and quiet printing process, with no electrical components to wear out or go obsolete. Automatic inflation of soft plastic bottles provides a uniform ink application. The Model F1 is built for long lasting durability with ball bearings rated for 300 million cycles.
Multi-Color Screen Printing Machine for Bottles
Mechanical pointer registration provides multi-color printing with a rack and pinion drive system which rotates your bottles with consistent speed throughout the printing process. Systematic Automation delivers high quality, precision multi-color screen printing for flat or cylindrical items including plastic bottles of all sizes.
Custom Solutions with Additional Options
Systematic Automation offers more than cost efficient, high performance screen printing machines, we are a leading manufacturer of vacuum tables, pre and post treatment system solutions. Screen printing machines which utilize vacuum hold down force greatly enhance the printing process for high quality and quick changeover.
For applications which require pretreatment to plastic surfaces, the Model FL flame treatment machine provides an all over pre-treatment to plastic bottles for durable ink adhesion. Flame pretreatment systems treat polypropylene or polyethylene bottles for improved ink adhesion.
The F1 screen printer is designed to grow with your business with attachment options to accommodate additional processes and future growth. Modular components upgrade the F1 to the F1-12, F1-20 and F1-30 for increased print area on a flat surface.
Super ROI for a High Volume Screen Printing Machine for Bottles
The Super ROI meets high volume printing requirements with one to six color printing options on cylindrical items. The high performance and production rates deliver a quick return on investment.
Proven Screen Printing Solutions for Any Flat or Cylindrical Item
Systematic Automation is a leading manufacturer of screen printing machines, vacuum tables, pretreatment flame systems and UV curing for quick drying of inks and coatings. We offer more than 35 years of experience designing, engineering and manufacturing automated equipment which improves your process and product quality, throughput and profitability.
Our screen printing solutions are utilized worldwide with dozens of models to choose from including:
Clamshell printers
In-line printers
Turret Motion
Sliding Table
Harmonic Life
No job is too large or small as we offer various models and types of screen printing machines for everything from ball point pens to kegs, microscope slides to large format printing. Our engineers partner with you to analyze your process and determine the most effective and cost-efficient printing solution. We provide exceptional customer service with ongoing support to ensure your total success.
Systematic Automation is recognized worldwide for manufacturing high quality, precision screen printers at an affordable cost. We offer advanced engineering features to meet your specifications including auxiliary equipment such as vacuum tables, flame treatment systems and UV curing equipment. Contact us today to learn more about our proven solutions with a cost efficient screen printing machine for bottles.