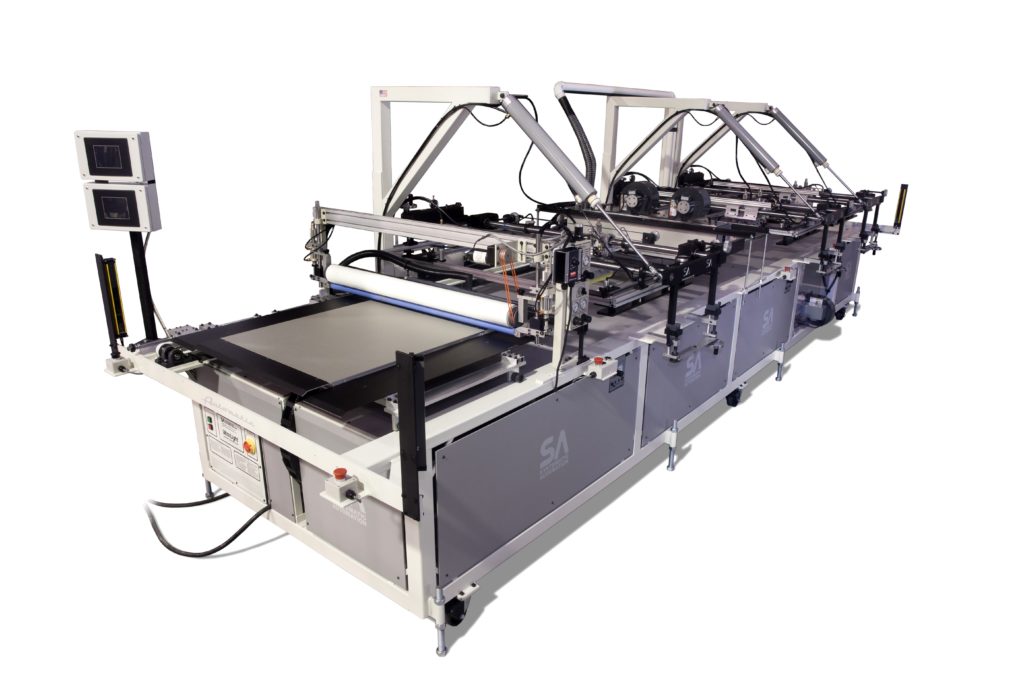 Screen printing has been around for many years as an effective method of printing images onto a variety of substrates.  Even with advances in technology and ink properties, the basic concept of screen printing remains the same with evolution leaning toward ways to improve quality and incorporate automation for maximum productivity.  
When looking for screen printing solutions or answers to any printing questions, be sure to work with an experienced screen printing machine expert who can offer printing solutions no matter the size or scope of your project, along with ongoing support for computerized screen printing machines.
Understanding the Screen Printing Process
Screen Printing Frames
Screen printing requires the use of frames, squeegees, inks with various drying or curing methods, and your substrate to print on which can be flat or cylindrical.  Screen frames are constructed from either metal or wood, and based on the size of the image required, with the screen mesh applied and tensioned to the frame. A thin coating of emulsion is applied to the screen and cured around the image, leaving a screen which is coated in emulsion except for the area in the image where ink will be squeegeed through the screen and printed onto your substrate.
Screen Printing Squeegees
Squeegees press the ink through the screen onto the product and are made of material such as polyurethane which is resistant to the harsh chemicals used in some screen printing inks.  Squeegee material is available in varying hardness levels measured in durometers. Typical squeegee durometers are in the range of 60 to 90 with 90 durometer the hardest material.
Screen Printing Inks
There are a variety of inks available for use in screen printing with the application determining which ink would be most suitable.  Factors to consider when choosing the right type of ink include opacity and adhesion. For example, if you are printing on glasses or drinkware the ink should be durable enough to withstand continual washing and/or be dishwasher safe, if printing on t-shirts the ink must be flexible and durable to withstand bending, folding, washing and drying.  
Various inks typically used in screen printing include:
Water based inks which can air dry or dry with heat

Solvent based inks which can air dry or dry with heat

UV inks which require UV curing to dry instantly
Size and Shape of Substrate
The size and shape of the product you want to print on is a very important consideration when choosing the right screen printing machine or process.  Printing on flat substrates or cylindrical items requires the right type of printer, screen, squeegee and ink to produce a high quality, durable printed product.  
Systematic Automation Offers Computerized Screen Printing Machines
Systematic Automation offers a wide selection of screen printing machines with dozens of models including semi-automatic and automatic screen printers.  We have been in business for over 35 years and have vast experience in all things related to screen printing, including the right types of screens to use in certain applications and the various inks available with the properties your application demands.  
Even though the components of screen printing haven't changed much over the years, the method of delivery including the type of screen printing machine and available options to enhance quality and productivity have improved.  Computerized screen printing machines enhance the printing process with flexible control from a PC, the ability to record and track job orders and setting parameters.
omputers aid the printing process by automating repeatable controls and printing press functions such as the screen registrations, cycle speed and stroke length.  Other screen printing parameters are typically controlled manually such as the squeegee floodbar angles and screen off-contact height as the cost to automate these features outweighs the benefits.
Computerized screen printing machines are often used to control auxiliary equipment which improve automation thus increasing productivity, and profitability. Robotic loading and unloading of products can be controlled with programmable computer software, often with the same software that drives the press.  When curing inks, lamp intensity can be programmed into the UV curing system based on the cycle time of the press, which reduces the changes that users with over cure inks resulting in damaged or brittle products.
When you need answers for any screen printing question, contact the screen printing experts at Systematic Automation.  We provide decades of experience, a wide selection of screen printers including computerized screen printing machines, flame treatment machines, UV curing systems and vacuum tables that are unsurpassed in quality and performance.  
Systematic Automation leads the industry with automated screen printing machines and auxiliary equipment that exceed customer expectations.  All equipment is manufactured in our U.S. facility with tight quality controls and thorough testing prior to shipping. Contact us today to learn more about our automated solutions including computerized screen printing machines.