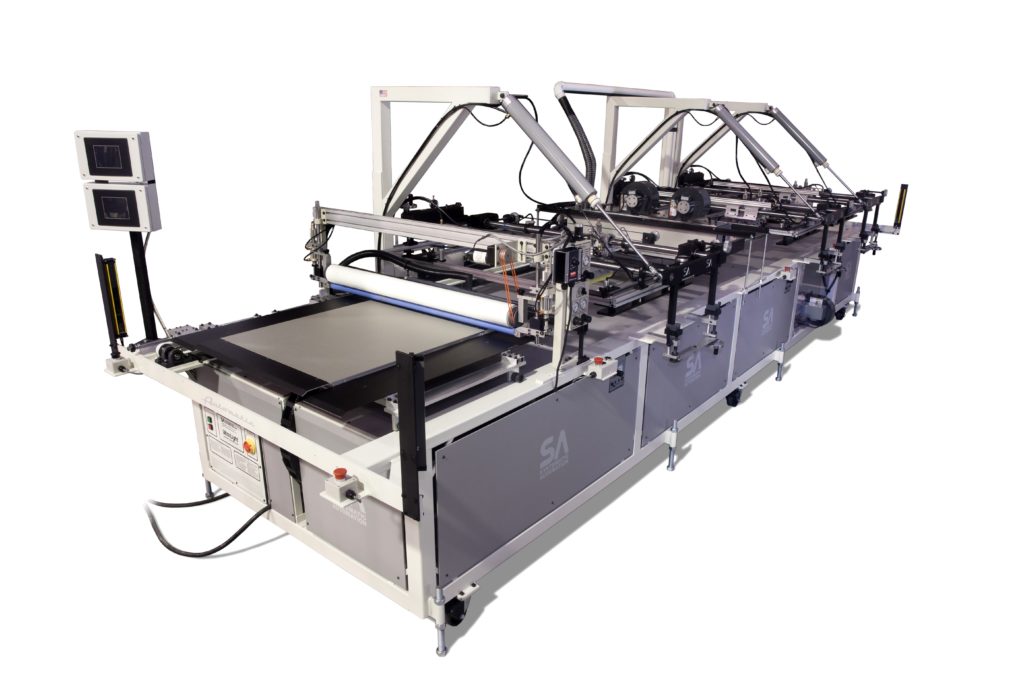 An automatic screen printing press which is designed for your business will be the workhorse of your operation. Automatic screen printing should be a successful profit center or your business, no matter the industry or application.
We've searched to find the most robust and reliable automatic screen printing machines available in varying models to meet any commercial or industrial screen printing needs. The following automatic screen printing presses offer high volume, high quality screen printing with many standard and optional engineering features. A video is available to see each screen printer in action.
Model SST Automatic Screen Printing Press
The Model SST is a sliding table automatic screen printing press which offers precision screen printing in up to six colors with the unique ability to control the sequence of color laydown without moving any screens, flood bars or squeegees. This versatile automatic screen printer accommodates pre-treatment processes such as a flame treatment machine to prepare non-porous surfaces for ink adhesion or a post-treatment UV curing system which instantly seals vibrant color and provides added durability.
You can find the Model SST and dozens of screen printing applications worldwide. This versatile automatic screen printer is ideal for printing flat items such as decals, nameplates, signs, graphic overlays, touchscreen panels, membrane switches, glassware and many other items. Check out the Model SST and watch a video of this high quality screen printer in action.
Model T8-SS Automatic Screen Printing Machine
This T8-SS automatic screen printing press is a turret motion fully automatic screen printer offering the perfect solution for cylindrical screen printing. Enjoy a total turnkey printing solutions with automatic loading, pre-treatment, UV curing post-treatment and unloading. The fully automatic features allow for simple operation, reduced labor costs and a high level of quality.
Make sure your screen printing process is the profit center it should be and not a bottleneck in your product flow with cycle speeds up to 2,000 parts per hour and options for additional stations and robotic loaders. Learn more about the T8-SS and watch it in action with a plastic cup screen printing process.
CC-5000 Automatic Card Printing Machine
The CC-5000 is an automatic screen printing press ideal for smaller, flat items such as ID cards, luggage tags, plastic cards and small, flat products. With reliable and rapid performance, the fully automatic feed and pneumatic operation make it simple to operate and reliable with few moving parts. Enjoy easy job setup and quick changeovers with X,Y and rotational micro adjustment for part registration.
Options include stacking devices, anti-static solutions, automatic ink dispenser and more. Watch the CC-5000 in action and see for yourself why this is the only screen printer needed for automatic card printing.
Model Super ROI Automatic Press
The Super ROI automatic screen printing press is a precision multi-color printer with the ability to print up to six colors. This automatic screen printer accommodates a wide variety of cylindrical items and is the perfect solution for screen printing on mugs, glassware, jars, tubes and bottles. The simple design provides easy operation with low maintenance in a rugged screen printer that keeps on performing.
UV curing is an option for quick drying of vibrant inks in only seconds for quick changeover and improved cycle times. Pre-treating with a flame treatment machine is available to improve adhesion of non-porous materials. Learn more about the Super ROI and see a video of this automatic printing press in action.
Systematic Automation Offers Automatic Printing Solutions
Systematic Automation is recognized as a leading manufacturer of screen printing machines, vacuum table systems, pretreating flame treatment machines and post-treatment UV curing systems. We offer the widest selection of semiautomatic and automatic screen printing machines available with engineering features and options to deliver maximum value for your printing process.
Make sure your screen printing machine is a versatile to handle current and new printing demands without paying more than you need to. Consult with the knowledgeable engineers at Systematic Automation for factory direct sales with the printing press that meets and exceeds your expectations. We provide total turnkey printing solutions for the most efficient printing process for improved productivity and profitability.
Systematic Automation manufacturers all equipment in our US facility with quality components. We provide exceptional customer service with ongoing support to ensure your total success. Contact us to learn more about the many options available to you and to find the perfect automatic screen printing press for your application.