Screen Printing Machines Suppliers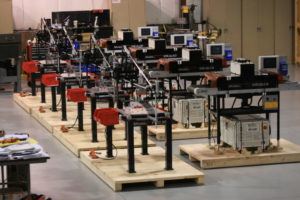 Systematic Automation is a world leader among screen printing machines suppliers, providing various precision screen printing machines for virtually any application. With over thirty years of experience designing, manufacturing, installing, and servicing thousands of industrial printing machines, we are experts in the screen printing equipment design and printing process and are here to assist you find the right machine for your application.Systematic Automation is the world's largest supplier of screen printing equipment offering proven solutions with innovative technology in our advanced machines, utilizing only the best in electrical components for long lasting life with worry free maintenance. Our experience with screen printing machines and UV curing equipment for curing inks, coatings and adhesives means that you receive expert advice with professional equipment and service.
Customized Solutions for Various Screen Printing Processes
Whatever your printing application requires, Systematic Automation is the experienced screen printing machines supplier with a solution for you. Review our Application Guide for a list of the different screen printing applications matched with the most cost-effective screen printing machine.
We offer solutions for printing on any substrate imaginable including paper products, glass products whether flat microscope slides or cylindrical jars and mugs, windshields, lighters, electronics, keyboard overlays, foam, Frisbees, keychains, lanyards, magnets, nameplates, plaques, plastic or steel products...the list is endless.
Experienced Screen Printing Machines Suppliers
Our technologically advanced semi-automatic and fully-automatic screen printing machines provide the best in printing quality with consistent efficient output. Systematic Automation designs and manufactures various styles of screen printing machines that can be adapted for your detailed precision process. Our simple and affordable options make it easy to get set-up and running, with free training and support available from our headquarters in Farmington, Connecticut.
Our years of experience and dedication to providing the best printing equipment available, has led to the development of several proprietary and patented products that are used worldwide today by many businesses large and small in numerous applications. Find out how you can automate your printing process with proven cost-effective and simple solutions.
Contact Systematic Automation, Inc. for solutions to your screen printing needs. All of our machines are tested rigorously for top quality performance prior to delivery. Systematic Automation provides an efficient and simple solution to your production goals and is a global leader in screen printing machines suppliers.